CFNO Mobile App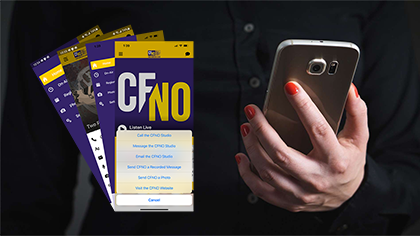 The new CFNO App for iOS and Android is here!
Now, you can take Your Hometown Sound with you, wherever you go!
In addition to listening to the station, we've packed the app with all sorts of information, including our contests, shows, and announcers. Plus, we've included info on regional events and photos from past events. Get local news and up to date weather. Even use the app as your alarm! If you want to reach out to the announcer on the air, you can use the app to "Call the CFNO Studio", "Message the CFNO Studio", "Email the CFNO Studio" and even "Send CFNO a Recorded Message" or "Send CFNO a Photo"!
The new CFNO App is much more than audio. It's the radio station on your phone! Download it today on the App Store or the Google Play Store.


The CFNO App! Just another reason we're Your Hometown Sound, CFNO!