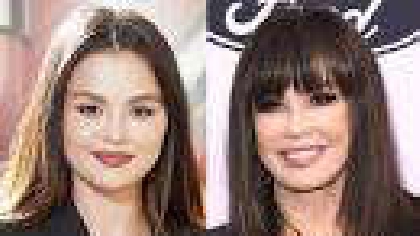 So Much In Common!
Marie & Selina Connected
Marie Osmond is already thinking about her bio movie covering her life. The 63-year-old singer even named the Hollywood actress she wants to play her.
'I think Selena Gomez would be amazing,' Marie told co-host Adrienne Bailon-Houghton and Justin Sylvester on E! News. And that is 'only because she has been through a lot of the things that I've been through.'
The charismatic star spent her teen years singing with her brother Donny Osmond on their Donny & Marie variety show.
Selena grew up acting on Barney And Friends then Wizards Of Waverly Place.
'I think it's nice to have a child's perspective as being an entertainer,' Marie added, 'because it's very different.'
Marie added that although she worked hard as a kid, she did not miss out on a childhood. 'I don't look at life that way. I look at what's a positive. I like to dwell on that more than what I missed,' she said.
But she would not do the variety show again: 'Has hell frozen over?' she joked before adding, 'I never say never because we love each other. We're very supportive of each other.'
While starring on her variety show she met Cher, Lucille Ball and Bob Hope.
And she leaned from them.
'They approached it as a job and that everybody around them was just as important, and to work really hard,' she explained.
'There was no entitlement. There was none of that. It was a job, and to keep improving and improving, and I think that's one of the reasons that I'm still around.'
NOW Will Selina say YES?