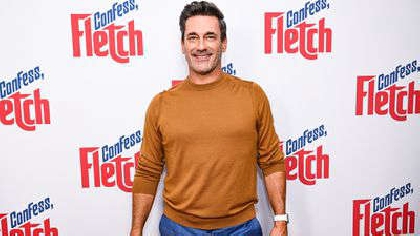 Jon Hamm's latest movie is a passion project...
The Mad Men alum "gave back 60% of his salary" from Confess, Fletch — a decision he made when it became clear the needs of the project would exceed the budget, according to director Greg Mottola.
"I gave back some of my salary — not as much as Jon, because he's richer than me and I've got three kids," Mottola joked in an interview published Thursday. "And we bought three more days of shooting. We got it up to 30 days in Boston and one day in Rome. And we said, 'We're insane, we're dumb. We're going to make this movie."
The filmmaker behind Superbad and Adventureland, added that it was a challenge to get the movie made in the first place. But Hamm was a lifelong fan.