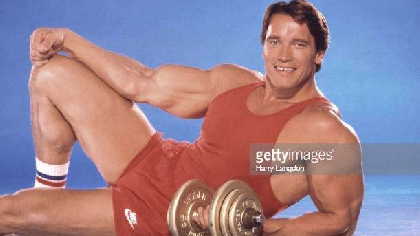 Now a Motivational Man
And He Is....Find out where!
Arnold Schwarzenegger has reportedly signed a deal to write a new "motivational" book. The 75-year-old action star previously opened up about his years in the spotlight in the 2012 memoir "Total Recall: My Unbelievably True Life Story" and and now has signed with Penguin Press to put pen to paper again — with the help of a co-writer. As well as lifting the lid on his life in Hollywood and in politics as the Governor of California, Schwarzenegger has also written a series of books about bodybuilding.
Arnie is known for his one liners.. What's Your Fave?
"I'll be back!" [The Terminator, Terminator 2: Judgment Day, Commando, The Running Man, Twins, Total Recall, Last Action Hero]

"Consider that a divorce!" [After shooting his fake wife Sharon Stone in the head - Total Recall]

"If it bleeds, we can kill it." [Predator]

"Hasta la vista, baby!" [Terminator 2: Judgment Day]

"I let him go." [After dropping a man off a cliff - Commando]

"He had to split." [After cutting Buzzsaw in half with his own chainsaw - The Running Man]

"What a hothead!" [After blowing up Fireball with his own flamethrower tank - The Running Man]

"What a pain in the neck." [After strangling Sub-Zero with barbed wire - The Running Man]

"Here's your Sub-Zero… now plain zero." [See above]

"Stick around." [After pinning a man to a tree with a knife - Predator]

"Knock-knock." [After smashing a door down - Predator]

"Come with me if you want to live." [Terminator 2: Judgment Day]

"I'm not into politics, I'm into survival." [The Running Man]

"What is best in life? To crush your enemies, see them driven before you, and to hear the lamentation of their women!" [Conan the Barbarian]

"I eat Green Berets for breakfast. And right now, I'm very hungry!" [Commando]

"You've just been erased." [Eraser]