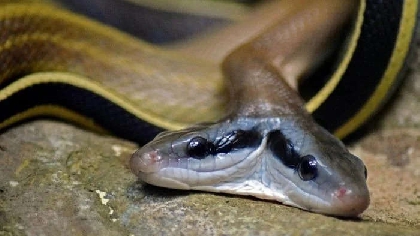 Twice the Yuck!
Two-headed snake set to celebrate its 17th birthday
Two headed reptiles have a one in a 100 million chance of surviving. This black rat snake now measures five feet. It was found in 2005 in Missouri, United States. It lives now at the Cape Girardeau Conservation Nature Centre.
Swallowing is a challenge for the serpent but it has overcome it and reached its late teens.
One head has to be covered while the other is being fed. as the heads are competitive for food.
Snakes with two heads are born when an individual egg starts to divide into twins but is hatched before separating fully.
Thanks but NO thanks!
Have YOU ever seen anything like this?